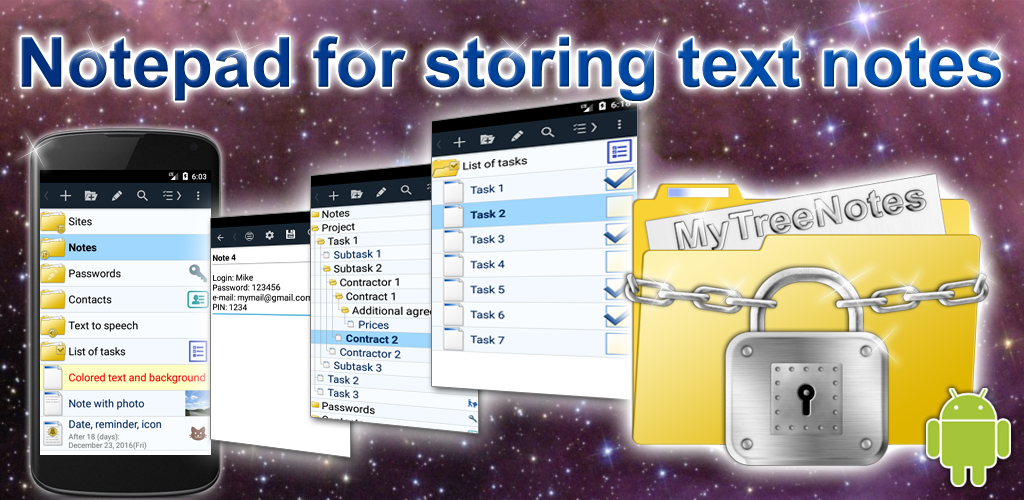 MyTreeNotes - Notepad for Android
Free multifunctional notepad for Android with the ability to store notes in folders with unlimited nesting
Features:
Notes in the notepad "MyTreeNotes" are stored in the form of a tree with unlimited nesting, this allows you to arrange all notes by topic as you like.
In any note, at any level, you can create branches and place information in more detail without affecting previously entered data.
Notes can be copied, moved between any folders, deleted.
You can perform these operations on one or multiple selected notes or folders. You can move notes with a gesture inside a single folder.
Play the text of any note by voice in many languages.
Voice input of text in a note.
In the note, you can add a simple reminder or a periodic reminder.
Reminders will be displayed as a notification, without an audio alert. The reminder will say in how many days the event should take place. Reminders only work on days, without time.
Two types of lists:
1. A list inside a single note, where each row is a list item.
2. A list inside a folder, where each note is a list item.
The program contains a large number of built-in thematic icons and it is possible to color the icons in any color.
You can use BBCode to set text styles. This option can be enabled in the menu "Settings - BBCode", after that, when editing a note, new buttons with styles will appear in the toolbar.
You can add links to any files in the note (avi, mp4, pdf, jpeg, docx, xlsx ...). You can open these files from a note or from a list of notes.
The program automatically creates backups that are stored only on your Android device. You can set saving backups to SD card or Google drive.
Ability to export the entire database to a file or import the database from a file.
You can protect the file with a password. From the file with extension ".mtnt", you can restore the database on any Android device.
You can add links to other notes from your database to the note text.
This allows you to link to one note from many other notes. You can insert a counter link to follow the link between two notes.
Import notes from text file (*.txt).
Free service for online notes: mytreenotes.com
Allows you to work with notes from the Android app via a WEB site:
Example: From the MyTreeNotes application, you can send a note to the mytreenotes.com site, then all changes in the note on the site will be synchronized with all your Android devices.
On the site mytreenotes.com you can add new notes and import them into the MyTreeNotes app.
Notes on the site mytreenotes.com can be viewed or edited by anyone with a unique link.
And other functions...
Install MyTreeNotes:
Install MyTreeNotes Lite:
Social networks:
Other:
Contact us: